About Your Dog Trainer Susie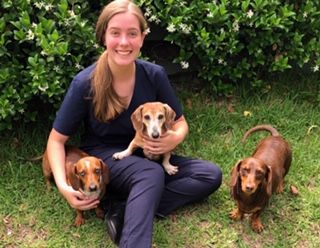 Susie is a passionate lover of dogs. Growing up with her family dachshunds, she learned to love each of their unique personalities and temperaments. Susie's K9 companions are Roxy (14 years), Tootsie (3 years), Pebbles (1 year), and Stanzi who passed at the age of 15. Both Tootsie and Pebbles completed the It's Not About The Dog 8-week puppy program and are currently enjoying their basic needs being met! In her senior years Roxy has loved their socialisation manners and companionship. As a past pupil of Zigrid, Susie was inspired by her dedication to dogs (and their human companions) in establishing meaningful relationships based on mutual understanding. Susie is proud to be a part of It's Not About The Dog, and is excited to continue her journey, listening to dogs' conversations and helping K9 parents be their very best.
Susie takes all the 4 week basic puppy training and works with Zigrid in the 8 week puppy program.